Race Day Schedule
7:00 AM – 8:30 AM
Number Pick-Up & Onsite Registration
8:30 AM
Pre-race Warm-up
9:00 AM
Race Start
Post-Race
Awards Ceremony
Awards
1st Place Overall Men
1st Place Overall Women
1st Place Male Wheelchair Finisher
1st Place Female Wheelchair Finisher
1st Place Military Team (Teams of 4)
1st Place Law Enforcement Team (Teams of 4)
1st Place JROTC (Teams of 4)
Age Categories will be posted
On Saturday, May 6, 2017 over 1,000 people will unite at Carson Beach to participate in the 16th Annual Boston Marine Corps Honor Run.
Presented by: 

The Marine Corps Honor Run 5K will offer:
The fastest 5K course in Boston
Scenic views from Carson Beach
Product Sampling
Event Warm-Up
Awards Ceremony with great prizes, and more!
The distinctive spirit of hundreds of military and law enforcement officers is pervasive throughout the day. Groups will be running in formation, local honor guards will be onsite, as well as Marine Corps Cadets to help warm your muscles up. Race participants will include active duty officers and veterans from all branches of the U.S. Military and local law enforcement groups. But don't be fooled, this event is for EVERYONE. We welcome beginner runners, walkers and elite athletes alike. All you need is your sneakers and patriotism!
The Marine Corps Scholarship Foundation is the Nation's oldest and largest provider of need-based scholarships to military children, with particular attention given to those whose parent has been killed or wounded in combat, or who have demonstrated financial need.
Since its inception in 1962, the Scholarship Foundation has awarded over 37,000 scholarships valued at nearly $110,000,000. There were 2,300 scholarships awarded this past year.
Early Number Pick Up
We will be holding early number and shirt pick up on May 5 from 4:00 – 7:00 PM at Coppersmith, located at 40 West 3rd Street, South Boston, MA 02127. Coppersmith will have a Charity Tap Handle for all you beer drinkers, from which they will donate $1 of profit for each beer sold as well as match each dollar of profit. There will also be a 20% off card from Coppersmith for every guest that registers on site for the race.
This year we run to honor Sergeant Andrew K. Farrar Jr., USMC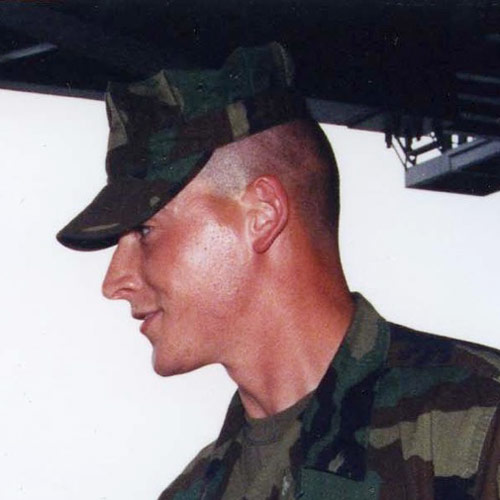 Sergeant Andrew K. Farrar Jr., USMC was born and raised in Weymouth, Massachusetts. Before enlisting in the Marine Corps in November 1997 Sgt. Farrar enjoyed spending time with family and friends, playing basketball, reading, and taking his dog Winnie out for a hamburger at a local drive-through.
Sgt. Farrar had an unwavering love of the United States Marine Corps and for the greatness of the United States of America. Ultimately, it was this love that took Sgt. Farrar from us all when he willingly sacrificed his life in the name of freedom in the Al Anbar Province of Iraq on January 28, 2005 – his 31st birthday. Sgt. Farrar served proudly and without fear. He was admired by his fellow Marines and truly adored by a loving wife, Melissa, and two sons, Tyler and Liam. Today, his sons are eighteen and thirteen years old and live with Sgt. Farrar's parents in Weymouth, MA.
Like the rest of our nation's fallen heroes, Sgt. Farrar leaves behind a legacy of pride and commitment along with countless cherished memories and dreams of what might have been. It is fitting that every American should take a moment each day and give thanks for the blessings we enjoy, born of the sacrifices made by our veterans, service men and women, and their families.
"Ultimately every many wants to make a difference when it is all said and done. How you do it is irrelevant as long as when they close the chapter on your life you can say I made a difference." —Sgt. Andrew K. Farrar Jr., USMC
Military/Law Enforcement
Most Popular
$

15
Active Duty or Retired Military,
ROTC, JROTC or Law Enforcement
Mail-In Registration Available
Check or credit card only are accepted. Please do not send cash in the mail.
Mail-in entries must be postmarked by Monday, May 1, 2017.
Mail-In Registration Closed
Mail forms to:
Attn: Marine Corps Honor Run
c/o Conventures, Inc.
One Design Center Place
Boston, MA 02210
If you would like to make a donation, please make a check payable to Marine Corps Scholarship Foundation and mail to the address above.
Online Registration is Encouraged!
Credit card payments only.
Online registration is available until 5:00 PM on Thursday, May 4, 2017.
Registration Closed
All participants will receive an official race T-shirt! Participants can pick-up their bib numbers and T-shirts on race day at the registration tent beginning at 7:00 AM. PLEASE ARRIVE EARLY TO AVOID LAST MINUTE LINES!
Refund Policy: Sorry, refunds are not available for this event.
I hereby for myself, my heirs, executors, and administrators, waive and release any and all rights and claims for damages I may have against Conventures, Inc., its affiliates and subsidiaries, and their respective officers, directors, employees, sponsors, coordinating groups, and any individuals associated with the event, their representatives, successors, and assigns, and will hold them harmless for any and all injuries suffered in connection with this event. I attest that I am physically fit to compete in this event. Further, I hereby grant full permission to any and all of the foregoing to use my likeness in all media including photographs, recordings, my story, or any other record of this event for any legitimate purpose.
Volunteer Opportunities
Join the fun on race day! If you do not wish to run but still want to be involved, we encourage you to lend a hand. Assistance will be needed at water stations, number pick-up, the finisher area, and along the course. All volunteers will receive an official race T-shirt.
To volunteer, please call 1-888-767-RACE or email David Grilk at dgrilk@conventures.com.
Sponsorship Opportunities
If you are interested in receiving information regarding sponsorship opportunities for the race, please contact David Grilk at dgrilk@conventures.com.
Course
This is the flattest and fastest course you will find in the Boston area. Perfect for beginners or for experienced runners looking for a PR!
The start of the race will begin at Carson Beach/Mother's Rest Area. Runners will run northbound on Day Boulevard making a hairpin turn just before the intersection of Day Boulevard and Farragut Street. The participants will return to Carson Beach traveling southbound on Day Boulevard. This event will effectively close Day Boulevard from 8:30 AM until 10:00 AM, as well as cause traffic delays at Kosciusko Circle, Mount Vernon Street and Columbia Road.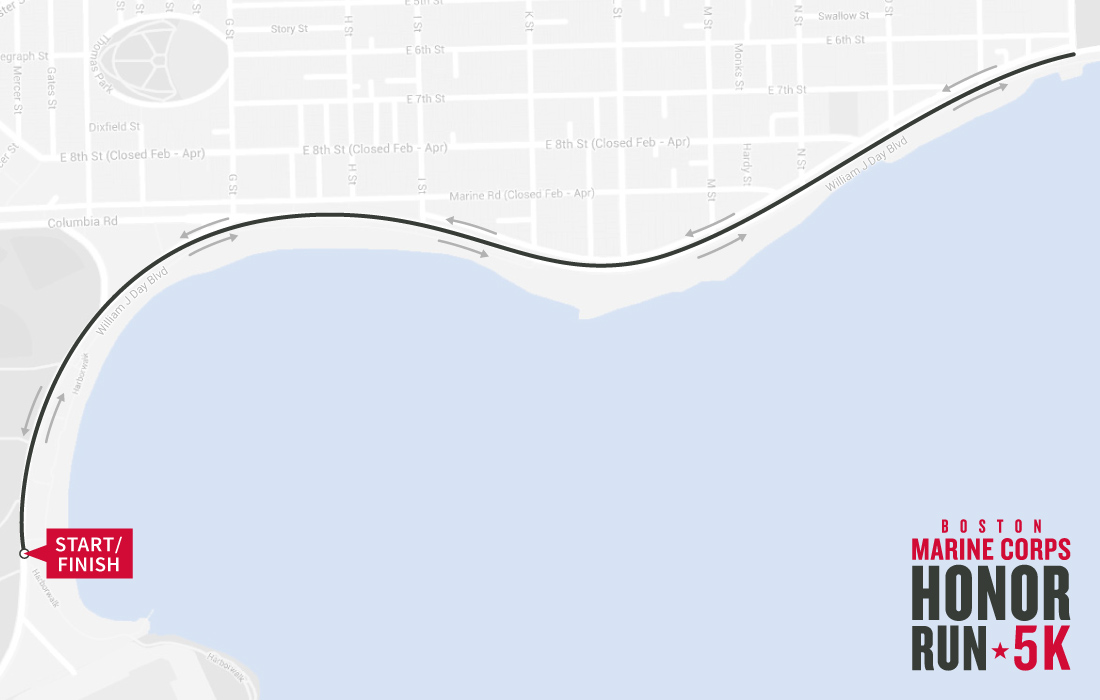 Location
DCR's Carson Beach
125 Day Boulevard
South Boston, MA 02127
Directions
MBTA
Castle Island, M Street Beach – Red Line to Broadway Station, then take City Point buses #9 or #11. Walk to the right across Marine Park to the beach to the entrance of the fort. Carson Beach – Red Line to JFK/UMass.
By Car (Map)
From the West: Mass Pike east to I-93 (I-95) South. Exit 15 off the Expressway.
From the North: Exit 15 off I-93 (I-95) North, left at end.
From the South: Exit 14 off the Expressway, follow Morrissey Boulevard, either go up to the rotary or crossover Mt. Vernon Street up to Day Boulevard or Exit 15 off the Expressway right at end.
Parking
Free parking will be available. Follow signs to designated parking areas.