Race Day Schedule
7:00 AM – 8:30 AM
Number Pick-Up & Onsite Registration
8:30 AM
Pre-race Warm-up
9:00 AM
Race Start
Post-Race
Cool Down & Awards Ceremony
Awards
1st Place Overall Men
1st Place Overall Women
1st Place Male Wheelchair Finisher
1st Place Female Wheelchair Finisher
1st Place Military Team (Teams of 4)
1st Place Law Enforcement Team (Teams of 4)
1st Place JROTC (Teams of 4)
Age Categories will be posted
On Saturday, May 9, 2015 over 1,000 people will unite at Carson Beach to participate in the 14th Annual Boston Marine Corps Honor Run.
Presented by: 

The Marine Corps Honor Run 5K will offer:
The fastest 5K course in Boston
Scenic views from Carson Beach
Product Sampling
Event Warm-Up & Cool-Down
Awards Ceremony with great prizes, and more!
The distinctive spirit of hundreds of military and law enforcement officers is pervasive throughout the day. Groups will be running in formation, local honor guards will be onsite, as well as Marine Corps Cadets to help warm your muscles up. Race participants will include active duty officers and veterans from all branches of the U.S. Military and local law enforcement groups. But don't be fooled, this event is for EVERYONE. We welcome beginner runners, walkers and elite athletes alike. All you need is your sneakers and patriotism!
The Marine Corps Scholarship Foundation is the Nation's oldest and largest provider of need-based scholarships to military children, with particular attention given to those whose parent has been killed or wounded in combat, or who have demonstrated financial need.
Since its inception in 1962, the Scholarship Foundation has awarded over 30,000 scholarships valued at more than $80,000,000. In the 2013-2014 academic year, the Scholarship Foundation has awarded more than $6,600,000 in scholarships to 2,040 students.
This year we run to honor Captain Benjamin W. Sammis, USMC
Captain Sammis was assigned to HMLA 267 MAG 39, 3rd Marine Air Wing, Camp Pendleton California.  His unit deployed to Iraq for Operation Iraqi Freedom. During the early morning hours, on 5 April, 2003, while flying close air support for marine ground forces "In Extremis," Captain Sammis was killed in action.
Ben was a 1992 graduate (with Honors) of Dighton-Rehoboth (DR) Regional High School.  He was a DR High "Peer Leader," active in the school's drama club and chorus. He was a center fullback on the DR Soccer team. Known to his friends as "Gentle Ben," he was feared and revered for his soccer skills and sportsmanship. He was a recipient of Sportsmanship and Most Valuable Player Awards. Active in scouting, Ben earned the Order of the Arrow and Achieved the rank of Eagle Scout.
Ben was also an accomplished sailor; As junior sailor in the Narragansett Bay Yachting Association representing the Barrington Yacht Club, he won numerous club awards and area championships titles in Sunfish, 420 class and Laser's, as well as US Sailing's Sportsmanship Award. He developed as a sailing coach to juniors and adults at two area yacht clubs. An inspiration to all he coached and taught, it is said he would encourage his students – "to look beyond their imperfections, reach beyond their expectations, and to have fun in the process."
Ben attended the Citadel earning a degree in civil engineering in 1996 where upon he was commissioned a 2nd lieutenant in the Marine Corps. From here, he followed his lifelong dream for combat aviation earning his "Wings" in April 1999. Ben was first in class and among the top three percent of all designated naval pilots. After completing flight training in the AH1W Super Cobra, Ben was assigned to HMLA 267. Shortly thereafter he earned the designation of "Weapons and Tactical Instructor." Ben's citations and commendations listed in order of precedence: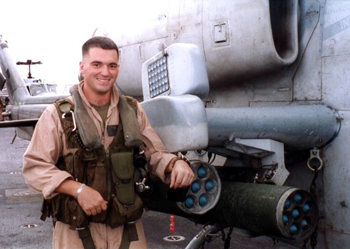 Purple Heart Medal for wounds received in action against the enemy on 5 April 2003
Air Medal W/ 1 Bronze Star, Combat "V" and Bronze Numeral "2"
Naval and Marine Corps Commendation Medal for service during 7 May to 29 July 2001
Presidential Citation awarded to 1st MED for service during 21 march to 29 April 2003
Meritorious Unit Citation Commendation awarded to 1st MAG for service during
9 August 2000 to 6 May 2002
National Defense Medal
Armed Forces Expeditionary Medal for service during Operation Southern Watch – USS Boxer, 2001
Iraq Campaign Medal
Global War on Terrorism Service Medal
Sea Service Deployment Ribbon W/ 1 Bronze Star
Rifle and Pistol Expert
Back home Ben was recognized for his service to his country by the Boston Celtic's Basketball Organization where they designated him; a "Hero Among Us" – November 2004
In February 2010 he was posthumously awarded the Law Enforcement Medal of Honor for "outstanding acts of bravery reflecting courage and dedication" by the Massachusetts Italian-American Police Officers Association
A quote made shortly after he was lost summarizes how Ben lived his life: "Ben Sammis loved life and, at every turn of life's journey and with all whom he came in contact, sought to impart the positive of life's lessons. He was true to the Marine Corps slogan – Semper Fidelis."
Active Duty Military
Most Popular
$

15
Active Duty Military, ROTC, JROTC
or Law Enforcement
Mail-In Registration Available
Check or credit card only are accepted. Please do not send cash in the mail.
Mail-in entries must be postmarked by Monday, May 4, 2015.
Mail-In Registration Closed
Mail forms to:
Attn: Marine Corps Honor Run
c/o Conventures, Inc.
One Design Center Place
Boston, MA 02210
Online Registration is Encouraged!
Credit card payments only.
Online registration is available until 10:00 AM on Thursday, May 7, 2015.
Registration Closed
All participants will receive an official race T-shirt! Participants can pick up their bib numbers and T-shirts on race day at the registration tent beginning at 7:00 AM. PLEASE ARRIVE EARLY TO AVOID LAST MINUTE LINES!
Refund Policy: Sorry, refunds are not available for this event.
I hereby for myself, my heirs, executors, and administrators, waive and release any and all rights and claims for damages I may have against Conventures, Inc., its affiliates and subsidiaries, and their respective officers, directors, employees, sponsors, coordinating groups, and any individuals associated with the event, their representatives, successors, and assigns, and will hold them harmless for any and all injuries suffered in connection with this event. I attest that I am physically fit to compete in this event. Further, I hereby grant full permission to any and all of the foregoing to use my likeness in all media including photographs, recordings, my story, or any other record of this event for any legitimate purpose.
Volunteer Opportunities
Join the fun on race day! If you do not wish to run but still want to be involved, we encourage you to lend a hand. Assistance will be needed at water stations, number pick-up, the finisher area, and along the course. All volunteers will receive an official race T-shirt.
To volunteer, please call 1-888-767-RACE or email Megan Trager at mtrager@conventures.com.
Sponsorship Opportunities
If you are interested in receiving information regarding sponsorship opportunities for the race, please contact Megan Trager at mtrager@conventures.com.
Course
This is the flattest and fastest course you will find in the Boston area. Perfect for beginners or for experienced runners looking for a PR!
The start of the race will begin at Carson Beach/Mother's Rest Area. Runners will run northbound on Day Boulevard making a hairpin turn just before the intersection of Day Boulevard and Farragut Street. The participants will return to Carson Beach traveling southbound on Day Boulevard. This event will effectively close Day Boulevard from 7:30 AM until 9:00 AM, as well as cause traffic delays at Kosciusko Circle, Mount Vernon Street and Columbia Road.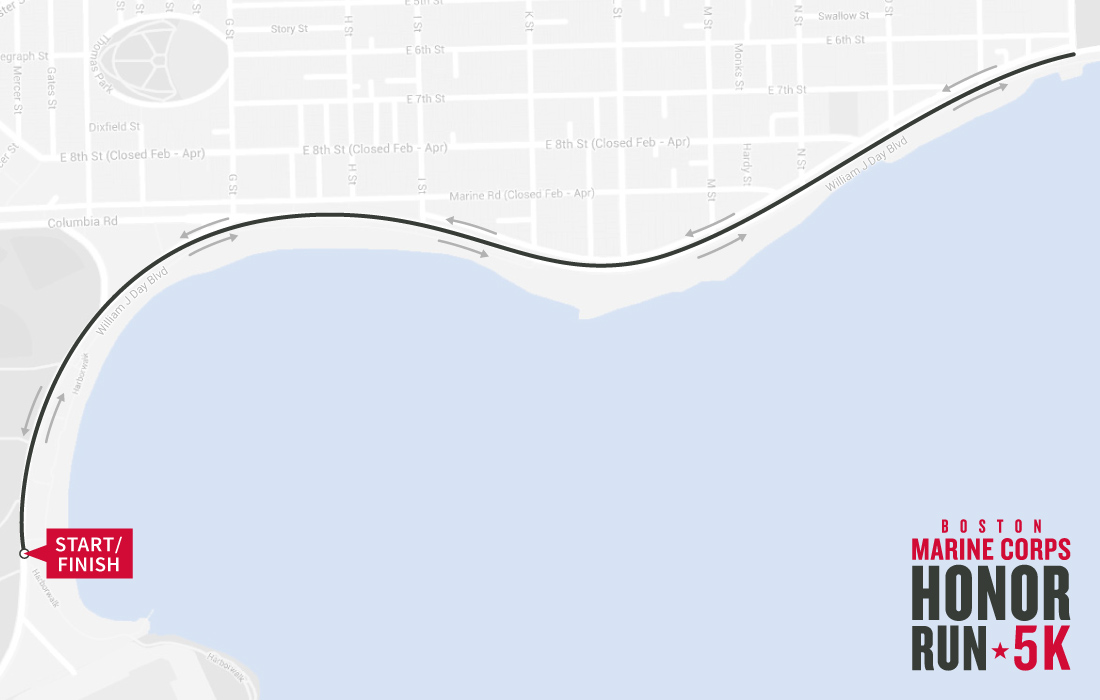 Location
DCR's Carson Beach
125 Day Boulevard
South Boston, MA 02127
Directions
MBTA
Castle Island, M Street Beach – Red Line to Broadway Station, then take City Point buses #9 or #11. Walk to the right across Marine Park to the beach to the entrance of the fort. Carson Beach – Red Line to JFK/UMass.
By Car (Map)
From the West: Mass Pike east to I-93 (I-95) South. Exit 15 off the Expressway.
From the North: Exit 15 off I-93 (I-95) North, left at end.
From the South: Exit 14 off the Expressway, follow Morrissey Boulevard, either go up to the rotary or crossover Mt. Vernon Street up to Day Boulevard or Exit 15 off the Expressway right at end.
Parking
Free parking will be available. Follow signs to designated parking areas.